Difference between revisions of "Honda CRF230F"
Jump to navigation
Jump to search
Line 1:
Line 1:
 
+
 

=Jetting=

 

=Jetting=

 

==Stock jets==

 

==Stock jets==
---
Revision as of 17:29, 31 July 2018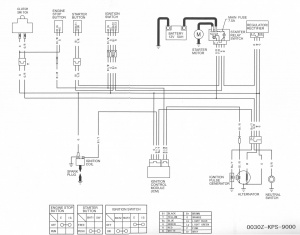 Jetting
Stock jets
Main: 102
Slow: 42
Stock jetting is lean especially on the slow jet. Can move up to a 45. A 45 slow and 120 main is the standard if the air snorkel is removed.
Modifications ("Uncorking")
https://docs.google.com/document/d/1mEsw891e5HUdLIrq4yYQzm2QCsRgK-ihDkrL_fu7_iA/pub#h.liicsytlw4nn
Recommended Jets
'05 needle: 16012-KPS-901
120 main: 99113-GHB-1200
118 main: 99113-GHB-1180
45 slow: 99103-MT2-0450
Seats
https://seat-concepts.myshopify.com/collections/2014/products/honda-2003-16-crf150f-230f-230x?variant=20638883078
Maintenance
Lube swing arm and linkage bearings as well as fork head bearings.
oil: 10w40 every 1000km / 30hours. a semisynthetic motorcycle oil is cheap and safe
air filter: clean and lube when dirty. check it at least every 5-10 hours (after any ride if you ride in mud and sand).
chain: clean and lube after any ride. Wd40 is not a good lubricant. prefer a specific lube. a spray or, better and cheaper , an high viscosity gear oil.
slack should be 1 inch with the bike on the kickstand (push down and measure from swingarm, push up and measure from swingarm. difference should be 1 inch)
valve clearance: every 2000km / 60hours
brake oil: once a year
plug: once a year
tire pressure: every 15 days
fork bleeding: every month
Tires
Recommended for basic trail riding:
Front: Bridgestone ED11
Rear: IRC VE-33 rear.

Pirelli MT16 for front and rear was also recommended.
https://thumpertalk.com/forums/topic/1085533-tire-recommendation/